Latest CD release - Alice - music of Dame Gillian Whitehead
04 November 2013 by Marc Taddei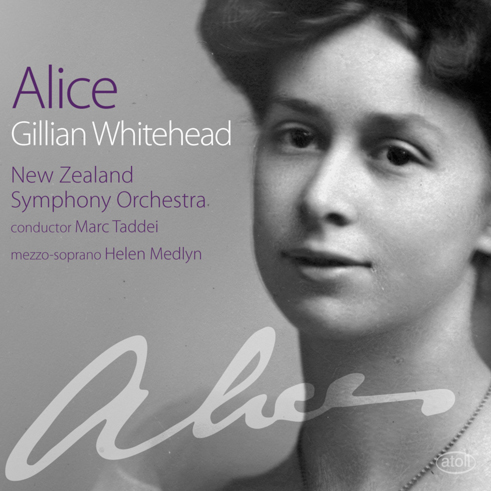 I am pleased to see that Atoll CD has released "Alice" – a recording of the music of Dame Gillian Whitehead, featuring mezzo soprano Helen Medlyn, harpist Carolyn Mills and the New Zealand Symphony Orchestra. The recording sessions took place late in 2012 and were a joy from start to finish. I've mentioned this before but it bears repeating that the NZSO is a great recording orchestra. They have had a particularly intense focus on recordings since the late 1980s and this experience, coupled with the sheer amount of releases over the years (they have sold over 1,000,000 CDs for Naxos alone) have certainly had positive effects on the orchestra's ability to produce excellent recordings. In particular, the orchestra is able to play consistently from take to take and also maintain musical line. This is a point worth considering as the reality of the recording process can work against musical continuity.
Helen Medlyn is a marvel – her ability to convincingly interpret a huge variety of musical styles is unparalleled in New Zealand. I have had the experience of being a soloist in a recording session for the NZSO for Koch International CDs and I can only bow down to Helen's stamina and consistency. She was able to dig deep throughout the process and deliver wonderful characterizations – even at the end of grueling sessions. I will never forget during the end of my session for Koch having to play a high A natural above middle C (not a difficult note) and psyching myself out – the mental game is always the most important part of any artist's approach. I got the take completed and the session finished successfully but it certainly contributed to my sense of empathy and understanding for musicians in these sessions! Afterwards I was told that one of my colleagues jokingly said during my ordeal, "Do you think we should tell him what position it is in…"!
Likewise, Carolyn Mills brought great virtuosity to her interpretation of Gillian's "Karohirohi". Both of these works were written especially for the soloists and it is always an honor to be able to bring initial recordings with the original artists to life.
I know I have already written about the producer, but Wayne Laird really is fabulous - he brings a real musician's approach to the art of producing and his results speak for themselves. He works tirelessly to achieve the very best results possible and music in New Zealand owes him a huge debt of gratitude.
This is a landmark release for New Zealand art music and contains three wonderful examples of the work of a master composer a the height of her inspiration. The CD can be purchased online here.