Composers in Residence
18 November 2013 by Marc Taddei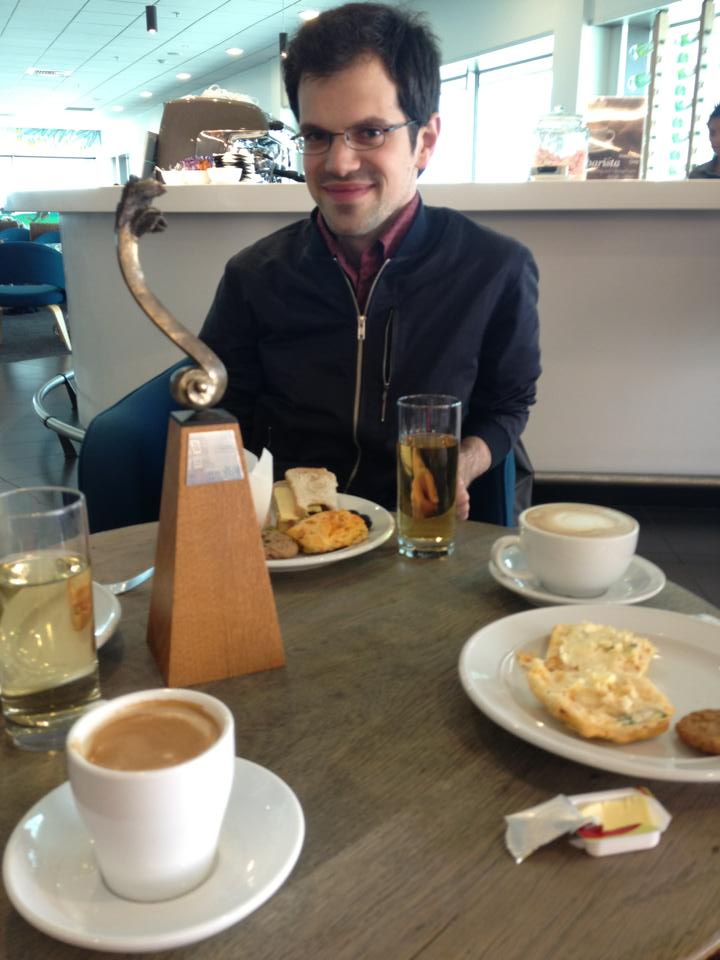 Orchestra Wellington Composer in Residence, Karlo Margetic with his APRA Silver Scroll award and breakfast
Orchestra Wellington just performed their final subscription concert for the 2013 season on Sunday and we used the event to also launch our new 2014 season. A vital aspect of our programming approach centers around our composers in residence. Orchestra Wellington has three composers in residence, which must be some kind of record! Having practicing composers who work closely with the orchestra and interact with our audience makes for a particularly vibrant scene.
We have been really fortunate in the appointments we have made as recently two of our resident composers were finalists in the APRA Silver Scroll – SOUNZ Contemporary Award for 2013. Chris Gendall (Composer in Residence 2011) was singled out for his Triple Concerto that was written for and premiered by Orchestra Wellington with NZTRIO, and Karlo Margetic (Emerging Composer in Residence 2012, 2013) was singled out for his "Lightbox" – a piano trio that was written for and premiered by NZTRIO. I was at the world premieres of both of these great works and I came away from both concerts flabbergasted at the level of music composition in this country. New Zealand has a proud and particularly strong history of compositional teaching and there are centers of excellence in teaching composition throughout the country.
Karlo's work went on to win the award. Here is Karlo discussing his work.
Karlo Margetic introduces Lightbox from Chris Watson on Vimeo.
Here is Chris discussing his Triple concerto.
Karlo was our emerging composer for two years and this year we premiered his Music for Winds, Brass and Percussion to positive critical acclaim. For me, it was an easy decision to appoint him as our 2014 Composer in Residence. I have enjoyed working with Karlo and collaborating over time with selected composers can certainly help develop artistic standards as well as offer a sense of continuity in programming for the audience. Simply put, part of my job (hopefully correctly!) is to identify composers that I believe should be championed by the establishment.
Another aspect of my position that I believe is a duty is the concept of bringing artists together. All of our composers in residence are commissioned to compose a work for inclusion in the following season. I was really pleased to be able to introduce Karlo to MIchael Houstoun with the idea of a collaboration. I know they have spoken and who knows what will eventuate – but if it comes off, I can only imagine how exciting the prospect of a new work by one of our most promising talents, performed by our greatest pianist will be for our audience!
The idea of bringing people together gives me a segue into bringing up out Educational Composer in Residence, Thomas Goss. I first met Thomas when I conducted a work of his with the Auckland Philharmonia Orchestra entitled, "Tane and the Kiwi". It struck me as a well crafted and inventive work that features a narrator telling a New Zealand story. Since then, Orchestra Wellington has commissioned a number of new works from him – all of which have been superb. He has also written brilliant arrangements for us that are uncommonly sophisticated. Our relationship with Thomas was formalized in 2012 and he has remained in this title ever since. It has been my pleasure to recommend him to organizations whenever I have the opportunity. I was delighted when the Tasmanian Symphony commissioned him on my recommendation a few seasons ago. More recently (well actually, right at the moment) I was able to strongly recommend him for arranging work for the upcoming Mission Estate Winery Concert, that I will be conducting this February.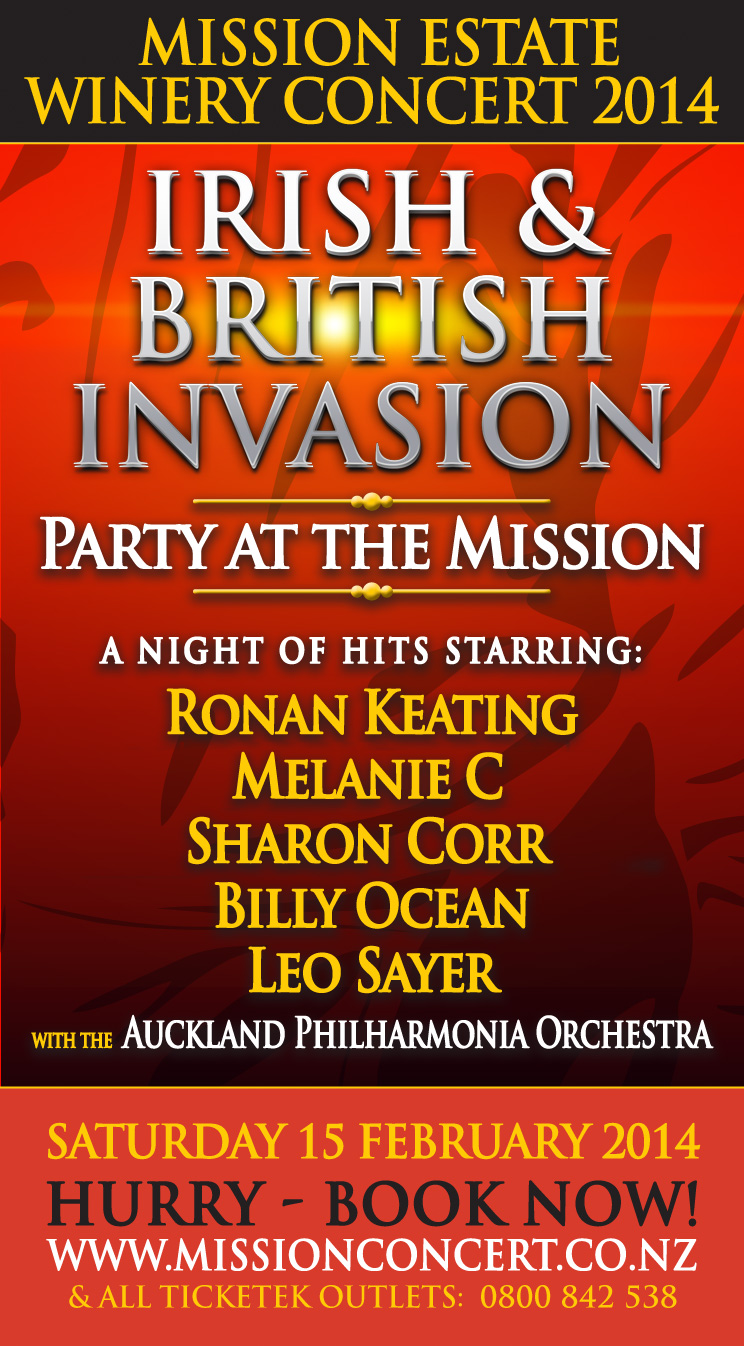 As you can see these are big names but I have no doubt that these artists will be blown away by the brilliance of his craft. I hope that this experience adds additional luster to his CV and leads to more top-level work for him in the future!
Finally, I am delighted to announce that our emerging composer in residence for 2014 is Leila Adu – Gilmore. I've known Leila for well over a decade and I have long wanted to find a way to feature her music! She is currently a Ph.D. fellow at Princeton University and she has, without doubt. the greatest quote I have ever read for any musician: "For starters, this young New Zealander of Ghanaian descent treats genre distinctions in much the same way Godzilla treated those little cities made out of cardboard,…" – MTV, Iggy's Artist of the Week. Leila was just seen singing backing vocals for Luscious Jackson on the David Letterman show last week! Here is the clip. It is great to see Luscious Jackson have gotten back together.
Leila will be writing an orchestral song cycle for the 2015 season – it promises to be a highlight of the season.