Boys and their toys...
24 February 2013 by Marc Taddei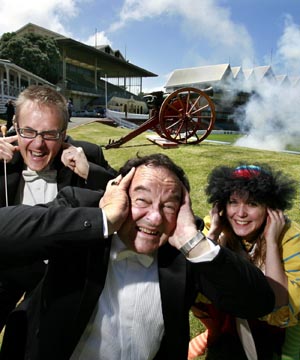 The summer outdoor concert season is upon me at the moment and it is always a fun time! The chance to connect to a huge outdoor audience comprised of a very wide cross section of the community is always a special privilege – as it is an opportunity for orchestras to further demonstrate their ability to enhance a community's quality of life.
Most outdoor concerts I do have some grand finale piece that has a pyrotechnic element in them. Generally the work we perform is Tchaikovsky's 1812 Overture and in fact last week in Adelaide that is what we did. Sometimes we decide to give 1812 a rest so in Nelson the week before we did the Dance of the Knights from Prokofiev's Romeo and Juliet. I also remember with a mixture of fondness, hilarity and unease, the final movement of Beethoven's 9th Symphony being used in Christchurch and Brisbane!

Next week, Orchestra Wellington is presenting their annual Government House concert and this year we decided to programme Beethoven – not his immortal Ode to Joy but a work that he wrote with the express proviso that guns and cannons are fired – Wellington's Victory! We are extremely fortunate in Wellington as we have access to 17 antique cannons and we also have 100 musket rounds to play with!

Normally studying a score entails structural harmonic analysis and details of orchestration, among other aspects, but this is the first time that I have had to consider how to deploy the forces of (blank) destruction. As a male, the chance to use cannons and muskets as a mode of musical expression is almost too thrilling!
The audience should be in for an exciting ride as the guns fire overhead from either side!