Silent Movie accompaniment
11 August 2013 by Marc Taddei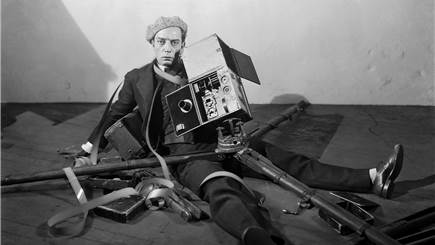 The New Zealand International Film Festival is a brilliant celebration of film. Its director, Bill Gosden is a walking encyclopedia of all things pertaining to cinema and his choices are invariably compelling. One of the special aspects of the festival is Bill's committment to the masterpieces of the silent era and specifically to matching these films with live music. I have had the great good fortune to work on a number of films over the past decade – in Wellington with Orchestra Wellington but especially in Auckland with the Auckland Philharmonia Orchestra. For some reason, Auckland audiences simply can't get enough of these events. It could be because of the spectacular surroundings of the Civic Theatre but for whatever reason, Auckland is a stronghold of popularity for this kind of event.
Accompanying silent film poses specific challenges to the conductor in terms of preparation and performance and also holds specific challenges for the musicians. As with all musical performance, tempo is of vital importance, as is consistency of approach. However, unlike conducting a concerto, opera or ballet – the "soloist" never adapts to the accompaniment. Working with film quickly shows certain tendencies in tempo consistency! In this respect this kind of work is of huge value to any conductor as the film serves as a kind of meta-metronome that must be obeyed. There can be sections that can be broadly followed but (especially in comedy films such as Buster Keaton's "The Cameraman" – score by Timothy Brock) many times the synchronization has to be exact. One of the myriad challenges is to make the music and any adjustments that are required to maintain synchronization as musical as possible.
Preparing for film is relatively straight forward. Because visual cues are marked in the score, one simply goes through the score in one's head whilst watching the movie. It quickly become apparent where issues of synchronization become challenging. It generally takes me about a week to prepare a movie. Once rehearsals begin, new challenges appear. I find preparing the score in my head is vital but gives me a false sense of confidence as any adjustments I make can be made immediately in my mind's ear. Once gesture and live musicians are added to the mix, things become rather more complicated! Orchestras do not respond like a piano does to the touch. Because of this, the ability to dial up the correct tempo for each section of the movie becomes vital – if these tempi are not ideal, adjustments in performance can become time consuming.
For the musicians, the challenges of movie performance are exacerbated by the frequently extreme tempi that are called for! All of this makes for unique challenges that focus a variety of musical discipline issues. I recommend this kind of thing to any conductor as a real-life check-up on rhythmic integrity but personally I could not do this sort of thing all the time – I do miss the human interaction that is a vital part of our art.