Orchestra Wellington 2016 Season Brochure
16 December 2015 by Marc Taddei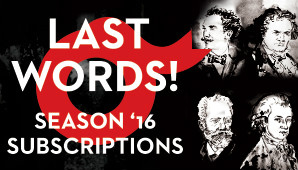 Orchestra Wellington launched its 2016 Brochure during our final concert for the year. I must say, it is a great feeling launching a season, knowing that one has already sold 1100 full subscriptions before the brochure has been released!
I am a fan of thematic programming, because it gives structure and a sense of progression and drama to a season. My view is that having strong links between programmes makes it more likely that people will purchase tickets to more than one show. Having said this, I strive to make every concert a self-contained event – one that has no need of reference to other concerts.

Following a successful season that had a very clear and strong focus (Tchaikovsky symphony cycle, focus on one soloist, the beginnings of Russian orchestral music) was always going to be a challenge. I felt it was important that we did not repeat ourselves, by presenting another cycle of symphonies. When it comes to making links in programming, I think it is imperative to focus on music. If the theme speaks to the music or its inspiration, I believe such a theme can add resonance to the listener's appreciation and understanding.

For 2016, I decided to focus on final works. The last thing anyone says or does is of great interest and this is made all the more powerful when that person is an artist of genius. In 2016, we feature many of these works. I like the balance of the year, and how this season focuses on the idea of creativity as it progresses through life.

You can flip through the brochure on ISSUU above, and you can also download the app on read the brochure on your smart phone. The format of the past two brochures has been ideal for reading on a smart phone and they look absolutely brilliant. There is also a link to a pdf download, just below the ISSUU reader, as well.
Ticketek is taking bookings for the season here.